INDIVIDUAL MODERATED courses
Get ready to grow, learn, and be challenged in your thinking. With curated courses created with you in mind, today we offer educational tools tailored for your personal and spiritual development.
What do we offer?
The Teachers and the Course Content:
Our courses are taught by people that carry authority in the sphere of influence they operate in. Practical teachings from their hearts and experience, with the desire to see you empowered to do what God has called you to do.
We have connected with a new breed of Sr. Societal Architects that will inspire you to action, so you can do what inspires you.
The course content is designed in such a way that you can study the courses at your own convenience and be an active part of the class, where you get to connect with other Societal Architects who carry the same passion as you to see their world changed.
Each course is designed to help you renew your mind, provide practical applications so you can now do what you were created to do. It is all about you, and the world you have been placed in and want to change. Each teacher and university team member is dedicated to see you fulfill your destiny. Encouraging you to embrace God's heart for the nations, grow into your God-given identity as a child of God, as a person, family member, leader and professional.
As a student you will start to think as a Kingdom Representative, empowered by a Godly Worldview, resulting in the development of your full potential as a creative and innovative strategist and leader.
What method do we use?
In our Online University we offer the student a personalized, easy-to-use and interactive learning and communication platform. You can study from any computer, tablet, smartphone as long as you have an internet connection. We have students that are 76 years old and use it with ease.
All teachings are online and are available to the students 24/7, so they can determine a study schedule that best suits them.
Each class is supervised by a dedicated moderator, a teacher assistant, that will help and direct the student during the complete course. They are there to assist you and answer your questions. Real, kind and professional people, that care about you.
The Online platform allows you to connect with the teachers, the moderator and other students in the classes, forums, online communities, and live Hangout video sessions.
Find out more about the modalities of study, their benefits and differences along with a recommended course trajectory.

Let's get started! Individual courses offer:
2 learning styles
Moderated Courses
This learning style offers our best services. It allows you to learn with others while having the assistance of a personal moderator during the duration of your course. It's international community, networking, and development of friendships is what most student don't want to miss. Moreover, it encourages you to complete lessons at a set pace. Moderated courses are offered every 5 weeks. (To learn more about this study style stay on this page.)
Study period 5+ weeks.
Available in accredited or audit format
Self-study Courses
This study style is for the self-learner, individuals with the ability to push through and learn on their own at their own pace. Additionally, you can take any other course you like at the same time. You get to choose what and how you want to study.
Study period 3 months.
Available in accredited format (2-month study period).
For moderated courses, there are 2 study styles:
Accredited/Regular student:
You will need between 4-5 hours of study time per week. As an accredited student you will have full access to the teachings, manuals, Keynotes, quizzes, forums and activation assignments. You will also be tested about the material you have studied throughout the week and will be challenged to complete your activation assignments and forum discussions. Likewise, you will be able to participate with other students through comments and community sections, while also having the opportunity to jump in on the monthly Live Google Hangout session with your instructors and fellow students. With this study style, your receive one credit per course (depending if you fail or pass your course based on assignments and participation results).
This study style is currently the most popular amongst the student body.
Audit/Listener student:
This study style is designed for the busy marketplace professional. As an audit student, you will have access to the teachings, manuals, keynotes etc., but do not have to do homework such as forums, quizzes, and activation assignments. However, you may participate in the monthly live course Google Hangout with your instructors and classmates. As a listener, this class will require 2.5-3 hours of study time per week. *Please note that your course will not be accredited under this study style.
Study requirement differences:
ACCREDITED
4-5 Hours of study per week
AUDIT
2.5 Hours of study per week
What are the benefits of a moderated course vs. a self-study course?
Community. The sense of belonging to a family. You get to know your classmates and your moderators as you go together from class to class, allowing you to develop friendships. This benefit is greatly valued amongst existing students.

You will have a moderator to guide you, help you, and grade you on your homework assignments (Forums, Homework Activation, and more!). Available during the whole course.
Student's Questions and Answers (they are answered by the directors and course teachers during the live Google Hangout session).

The LIVE Google Hangout - This is what the students enjoy the most! They can connect with other students and see each other at the same time as the teachers (this happens once per course).
A student CAN take moderated and self-study courses at the same time.
A student CAN also take multiple moderated courses at the same time.
This university revolutionizes the concept of the church. Every saint prepared and empowered to live their ministry wherever God has placed them and the Kingdom of God will influence every place!" - Narciza Herrera
The most beautiful thing I have this year is the University for Societal Architecture. God bless everybody who is a part of this!
-Karen Ferreyra
Quick Preview (Moderated Course)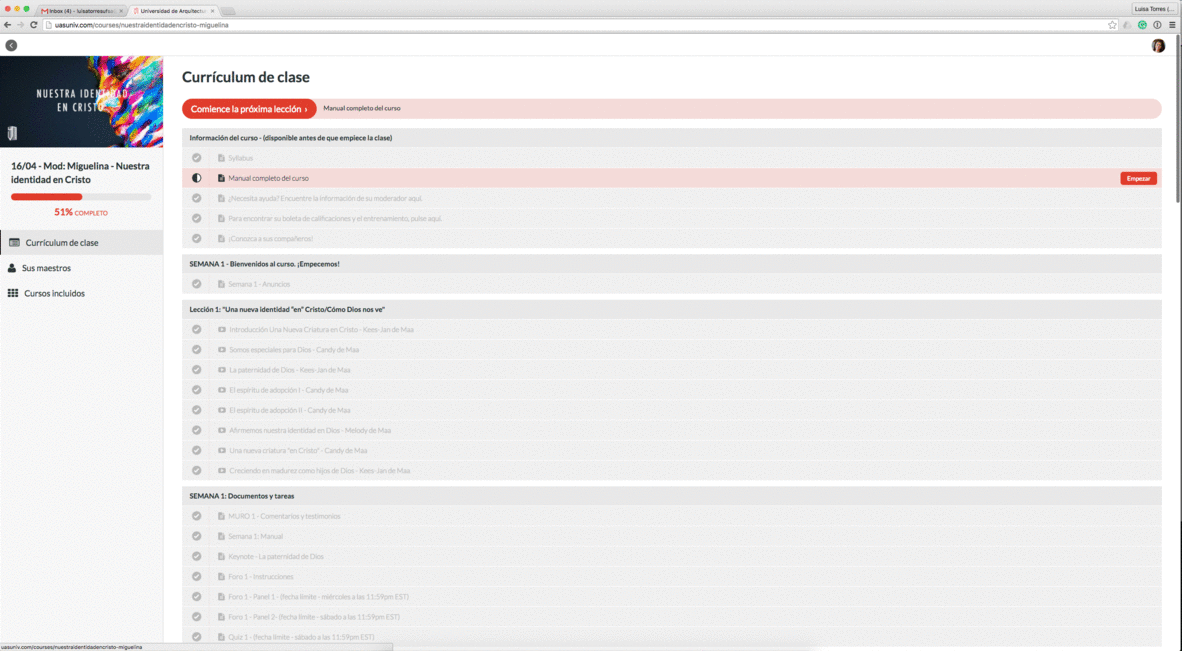 1st Tier Study Suggestion
The main focus of the 1st tier curriculum is to help the student grow spiritually and discover his/her gifts, callings and place of highest contribution in God's Kingdom and Society. The courses will inspire and equip the student to see God's heart for the Nations and create a profound sense of hope and purpose that will result in the positive participation in God's plan with His world.
The first year of the University curriculum is made up of 10 4-week Courses. Each Subject lasts 4 weeks with a week of rest between courses (5 weeks total). Each course is worth 1 credit. This schedule makes it possible for you to work and study at the same time.
2nd Tier Study Suggestion
The second tier module of the University focuses on preparing the student for his/her place in society as a leader -how to multiply who you are and increase the reach of your influence. Courses that will prepare the student to assume his role as a Societal Architect.
The second tier curriculum is made up of 10, 4-week subjects with a week of rest between courses (5 weeks total). Courses are worth 1 credit per subject. At the completion of the second year program the student graduates as a Jr. Societal Architect.
Stay tuned for upcoming courses.
2nd Tier
________________
Poverty Cure
The Power of Teamwork
From Vision to Realization
(Course #14 - Coming Soon)
(Course #15 - Coming Soon)
(Course #16 - Coming Soon)
(Course #17 - Coming Soon)
(Course #18 - Coming Soon)
(Course #19 - Coming Soon)
(Course #20 - Coming Soon)
1st Tier
________________
Life of Purpose
God's Kingdom Plan
Your Calling, Gifts, and Ministry
Your New Identity in Christ
Personal Restoration and Freedom
Building Healthy Families
Higher Living Leadership
How to Hear God's Voice
How to Operate in the Supernatural
How to Pray Effectively
Upcoming Moderated Course
New! - Are you missing a few course credits before graduation?
Self-study courses can now be taken in accredited format.
*Please note that all assignments need to be turned in at once via email to your assigned moderator and the study period will be 2 months and not 3.
Frequently Asked Questions
MODERATED COURSES
When courses start and end?
Courses start on the specified course date mentioned in the course page. Courses usually start on a Monday and are open for 5 weeks (4 weeks of coursework and 1 extra rest week to enjoy the material).
Can I watch the course material when I want?
Yes you can watch the course material when you want. Each Monday the course material of that week is published. As an accredited student, you need to finish and submit your homework assignments on assigned dates.
How long do I have access to the course?
With a moderated course, the pace of the course is faster, so the courses are open for 5 weeks. Self-Study courses are open for 6 months. This gives the student the freedom to choose his/her own study pace.
Can I choose the courses that I want?
Yes, you can choose any course you'd like. We suggest you follow the suggested tiers (order) for better results.
Can I download classes to a computer?
The Video and Audio classes can only be seen or heard through the virtual platform, for which access to the internet is needed. They can not be downloaded. Some of the material can be downloaded such as Keynotes (similar to PowerPoint) slides. Manuals can always be printed once inside the platform.
Can I pay for someone else?
Yes you can. If you like to pay for a family member, friend, church member, or coworker, please write us before continuing at: info@ufsauniv.com or call us at +1 (754) 400-1184. Office Hours: Monday-Friday from 9am to 5pm (Eastern Time - Miami Time). That way we make sure the correct student will be signed up.
When is the Google Hangout session?
The Live Google Hangout session with the teachers and students in the course takes place once per course in the evening. (NY Time) (Approximately 1 hour) These meetings are scheduled and the time is communicated to the students.
Who chooses the moderator?
The University Staff chooses the appropriate moderator for the upcoming courses.
Will the student receive a certificate after the course?
Depending on the study style chosen by the student, he or she may be able to receive a certificate of completion per course. For example, moderated courses issue certificate completions if the student has completely satisfied all course requirements.
How technically difficult will this be on a scale from 1-5?
We surveyed our students who have used our courses. Most of them said that the difficulty was a 1, or a 2 at the most! We guide you and make the teaching platform easy to understand through our short training videos. We will teach you everything you need to know!
What systems or technology do I need to have?
All you need is access to a device with an internet connection. As an accredited student, it would be better to have a laptop or desktop to type your assignments. Nevertheless, you can always comment and submit assignments through your iPad or smartphone.
Is there a Affiliate Reward Program?
Yes, each enrolled student gets his/her own personal affiliate link that can be sent to family and friends. For each person that signs up and purchases a course using the link the student provides, gets a financial reward. This is paid to the student and can be used as the student wishes.
Do you have a question that have not been answered in the FAQ's section?
We are here to help you. Write us a message!